Accommodations in Japan
Accommodations in Japan are sometimes operated by local government, language schools, or universities. But about 70%-80% of international students are staying in private housing. To choose the right accommodations, we suggest you to submit and request your school after getting your visa. School's international student office might be able to help you find a place where you can stay when you come to Japan.  Or get you in touch with a real estate agent who can look for a place in the area you plan to stay.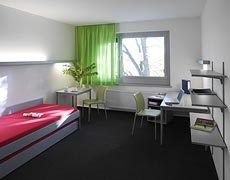 In case when school does not provide accommodations or can't help with temporary housing, you have to make use of youth hostel, weekly apartment, guest or share houses.
It is advisable that you take all necessary measure. Before coming to Japan, apply to become a member of youth hostel organization and book your accommodations once your schedule/arrival date is fixed.
It is necessary to speak Japanese when dealing with real estate agents and landlords, as they need to explain the specific rules in effect. It is also better to have a Japanese person accompany you on the day you sign the lease.
The nearer you are to the center of the city, the more expensive the price. Likewise, close-by train stations will affect the cost of the rent. It is therefore important for you to get familiar with the surroundings. As that may take time, make sure to ask advice from people around you.
When choosing accommodations in Japan, most foreign students elect to stay in private housing. In order to find the right place for you, you can ask a real estate agent, look at ads on the internet or ask your school to help you.
Key vocabulary to know:
Yachin: the rent, to be paid monthly in a timely manner
Shikikin: the deposit, usually equivalent to 1 or 2 month(s) of rent – refunded
Reikin: also paid upfront to the landlord, usually equivalent to 1 or 2 month(s) of rent – not-refunded
Kyouekihi: for the facilities, paid monthly
Chyukai-tesuryou: the commission of the agency, usually the equivalent of 1 month of rent
Some things to consider when choosing your place:
First and foremost, the location: how long and convenient is the commute to your school? How is the surrounding (is there a combini or a shopping center nearby etc?
Is it a loud area?
How bright is the place, what is its orientation?
And of course, the monthly rent, maintenance fee and other costs to consider such as having to buy equipment.
The main types of accommodations in Japan are

:
Homestay:
We recommend homestay as it the best way for a real immersion. It will significantly help you in your studies. What best way to put into practice what you have just learned at school? And you will learn a great deal about Japanese culture and customs.
We can help you find a family and arrange to find the perfect place for you, depending on your preferences.
You will have your private room but will usually have to share facilities.
Pros: this is immersion in Japanese life: a great way to improve your language skills and knowledge of Japanese culture altogether. This is also not costly.
Cons: requires a lot of self-discipline to mingle, and to respect the rules set by the family.
Dormitory:
You will have your own room – Western or Japanese – or share it with other students. You will usually share facilities – laundry, kitchen, study room – though some rooms may be equipped with their own fridge and bathroom.
You will meet a lot of people in what will usually be quite a cosmopolitan
atmosphere.
Pros: it is cheaper and you get to meet people and make friends. You also do not need to buy furniture and equipment. And you have the option not to cook at all.
Cons: common facilities, rules to abide by, possibly a curfew.
Shared apartment:
In a shared apartment, you lead a more independent life. You have your own room but you will share facilities.
Pros: this is a good way to meet people and learn life in a community. Not expensive. No curfew.
Cons: this type of accommodations provides shared facilities only, therefore no real sense of self-reliance.
Private apartment:
You leave a totally independent life and do not get to meet many people, though you are free to invite friends. You will get all comfort you need: the apartment will be furnished and usually all commonly used appliances will be there as well.
The cost can vary greatly, depending on the size of the apartment, the appliances, location and also length of stay.
Pros: total privacy, you are independent and can live at your own pace.
Cons: this is the most expensive accommodations as not only the rent will be higher but you will also have to buy furniture and appliances.