Accommodations in Japan
To choose the right accommodations, we or the school will help the students – some schools provide solutions, others don't offer any options at all (if this is a criteria for you, let us know). We usually recommend that students wait until they are in Japan to choose their place. Pictures on the internet may not give an accurate view of what's awaiting them. One needs to know the surroundings, the commute time etc … Of course we understand that students may be anxious to arrange everything before they arrive. In this case, it is preferable that they do not commit to a long-term lease, in case they don't like their place or in case they simply find a better option or need to move out.
If students can wait until they come to Japan, they first need to arrange a temporary stay for a few days (and avoid to spend more than a couple of days in a capsule hotel though – it is fun at the beginning but quickly becomes uncomfortable). Youth hostels, weekly apartments, guest or share houses: solutions are aplenty, for all budgets. Then the school's student office might be able to help them find a place or get them in touch with a real estate agent who can look for a place in the area of their choice.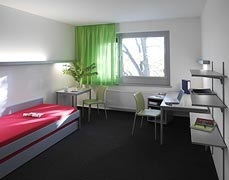 It is necessary to speak Japanese when dealing with real estate agents and landlords, as they need to explain the specific rules in effect. It is also better to have a Japanese person accompany on the day one signs the lease.
Besides asking a real estate agent, students look at ads on the internet. There are plenty of offers online, though again it is often necessary to get help from a Japanese person.
Of course, the nearer to the center of the city, the more expensive it gets. Likewise, close-by train stations will affect the cost of the rent. It is therefore important to get familiar with the surroundings. As that may take time, it is important to ask advice from people around.
Key vocabulary to know before renting a place:
Yachin: the rent, to be paid monthly, in a timely manner
Shikikin: the deposit, usually equivalent to 1 or 2 month(s) of rent – refunded
Reikin: also paid upfront to the landlord, usually equivalent to 1 or 2 month(s) of rent – not-refunded
Kyouekihi: for the facilities, paid monthly
Chyukai-tesuryou: the commission of the agency, usually the equivalent of 1 month of rent
Nowadays, more and more of the aforementioned fees are waived. It is therefore important to compare and look for such places, and keep in mind that it may be worth trying to negotiate.
Some things to consider when choosing your accommodations:
First and foremost, the location: how long and convenient is the commute to the school? How are the surroundings (is there a combini or a shopping center nearby etc? …)?
Is it a loud area?
How bright is the place, what is its orientation?
And of course, the monthly rent, maintenance fee and other costs to consider such as having to buy equipment.
The main types of accommodations in Japan are

:
Homestay:
We recommend home-stay as the best way for a real immersion and to adjust to Japan (most often, students do not stay more than 3 months in a home-stay family). It significantly helps one to improve their Japanese language skills. What best way to put into practice what you have just learned at school?! And one will learn a great deal about Japanese culture and customs, and about the local area.
We can help find a family and arrange everything, depending on one's preferences.
In a home-stay, one has their private room but will usually have to share facilities. Breakfast and dinners are included 7 days a week, lunches are also included on weekends and holidays.
Pros: this is immersion in Japanese life: a great way to adjust to one's new life, learn about the local area and of course improve one's language skills and knowledge of Japanese culture altogether.
Cons: home-stay requires self-discipline to mingle and to respect the rules set by the family. Also, it is quite costly: around YEN 3,000 per day.
Dormitory:
One has their own room – Western or Japanese – or share it with other students. The facilities – laundry, kitchen, study room – are shared though some rooms may be equipped with their own fridge and bathroom.
It is a great way to meet a lot of people in what will usually be quite a cosmopolitan
atmosphere.
Pros: it is the cheapest accommodations in Japan (it can be as low as YEN 20,000 per month). One gets to meet people and make friends. It is also not necessary to buy furniture and equipment.
Cons: no or very little intimacy, common facilities, rules to abide by, possibly a curfew.
Shared apartment:
It is probably the best compromise to live an autonomous life at a reduced cost.
In a shared apartment, one can lead a more independent life by having their own room, though the facilities are shared.
Pros: this is a good way to meet people and learn life in a community. Not expensive. Not so many rules. No curfew.
Cons: shared facilities only. One can never be sure of getting along with their roommates.
Private apartment (Studio):
A totally independent life. All the comfort one needs, though in a limited space. The apartment might be furnished with a table, chair and bed but there will be some more furnishing to do as well as some equipment to purchase.
The cost can vary greatly, depending on the size of the apartment, the building's age, the appliances, the location and also length of the lease. The minimum budget will be YEN 40,000 (+ Utilities of about YEN 5,000) though more commonly one can expect to pay at least YEN 50,000.
Pros: total privacy, being independent and having one's own pace.
Cons: this is the most expensive accommodations as not only the rent will be higher but there may be furniture and equipment to buy. Also the living space will be small. One may feel lonely in a studio so it is important to have a social life outside.