Arrival in Japan
After your arrival in Japan, you will go through the immigration where your passport will be stamped with the mention Landing Permission. A Residence card will then be issued – that is mandatory for all foreigners planning to remain in Japan for more than 3 months.
The procedural flow will be a little different depending on the airport you choose:
1) Via Narita, Haneda, Chubu or Kansai Airports: you must go to the local municipal office of your address within 14 days and need to register the card.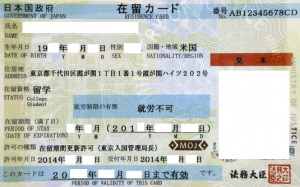 2) Via any airport other than Narita, Haneda, Chubu and Kansai Airports: at the immigration, near the Landing Permission stamp on your passport another stamp indicates the later delivery of a Residence card. After the notification of the address, the residence card will be sent to the notified address by mail.
 Beside the residence card, you will then need to enroll at your Language school. Read more about this here: First steps.
Another necessary "administrative" step will be to get health insurance. You will find more information here: Health insurance.
Once everything is set up and all the paperwork has been done, you will need to get familiar with the local life. The staff at your school will be very helpful so do not hesitate to ask them for help. We, at Motivist Japan, do not let you down either after your arrival in Japan! We are always here to support you so feel free to contact us. Please keep in mind that we are located in Chiba, 30-40 minutes from Tokyo.
To learn more about the daily life in Japan (practical information about the daily life, rules and customs and other advice), make sure to read the following page: Life in Japan: advice and information.