ASAGAYA COLLEGE OF ART & DESIGN "ASABI"

ASAGAYA COLLEGE OF ART & DESIGN "ASABI" has celebrated its 70th anniversary in this year. ASABI's purpose is to foster human resources that can contribute to society through visual culture. Nourishing the international perspective in exchanges with universities in Europe, and by adopting advanced information media, ASABI has encouraged new skills and creativity in visual communication. While adjusting to the changes of times in authentic Art and Design education, they are sending people who have skills of visual culture without prejudice to the world.
This art and design college has 3-year programs to learn it to suit your needs. Comprehensive technical college of 3-year to learn the design and art to adapt your own ability and purpose. If you've already had basic education in art, by the use of the second annual admission system, you can graduate in two years. To those who already have an ability as ASABI graduates, there is the Graduate School to learn further professional skills in one year.
The first year is basic skills training. Preparation for specialized professional skills is supposed to start at the latter half of the first year. In ASABI, students must learn "Drawing basics" and "digital basics" thoroughly in the first year. When student get to the second grade, curriculum is divided into six courses. Visual design course, Character design course (including MANGAKA training), Video media course, Living product design course, Image creation course, Painting representation course.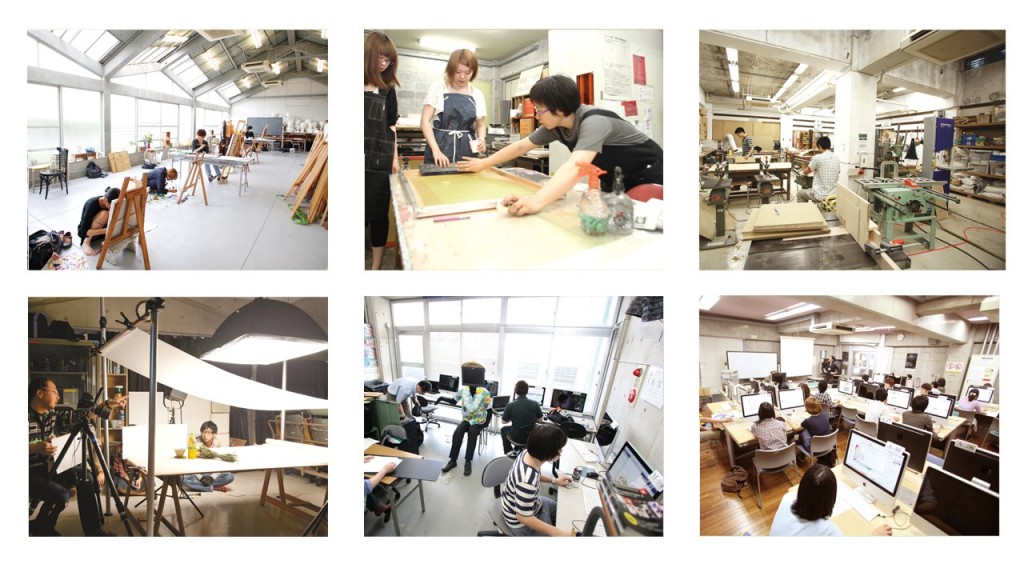 School Location: Shin Koenji, Tokyo
ASAGAYA COLLEGE OF ART & DESIGN is located in a quiet residential area, 5-minute walk from the Marunouchi Line, Shin Koenji Station. Since there are good shopping malls and small stores with a sophisticated atmosphere, it is an easy plan to live in and it enhances students' creativity. The calm appearance of the campus is another asset. Besides, Shin Koenji is also a convenient town to go to Shinjuku. The center of Tokyo. At Asabi, we're sure that you will benefit from a complete student life; both tranquility and liveliness .
MAP

ASAGAYA COLLEGE OF ART & DESIGN(ASABI)
1-3-3 Umesato, Suginami-ku, Tokyo 166-0011
COURSES
VISUAL DESIGN: Graphic Design, Web Design, Editorial Design, Illustration, Typography, Photography
Using printed media, students learn the skills and theories of communicating through design.
Study length: 3 years
CHARACTER DESIGN: MANGA(Comics), Character Design, Animation
Student learn not only drawing techniques but also ways to set the characters, create unique narrative ideas and achieve good planning skills.
Study length: 3 years
FILM AND MEDIA: Film-making, Video Art
Students learn the entire creative process common to video and film, from the initial brainstorming of ideas, planning, to the actualities of realizing the artwork.
Study length: 3 years
LIVING PRODUCT DESIGN: Industrial Design, Space Design, Craft Design
Students learn to design from the viewpoint of the user to create space and objects that enhance the quality of daily life.
Study length: 3 years
IMAGE CREATION: Contemporary Art, Installation, Video Art, Performance Art
Students explore various art genres to become free thinking artists capable of active engagement with the society.
Study length: 3 years
FINE ARTS: Oil Painting, Watercolor Painting, Classical Painting Techniques, Miniature Painting, Printmaking
Students not only learn practical painting and drawing techniques but explore various ideas and possibilities of painting as a means of self-expression.
Study length: 3 years
POST-GRADUATE PROGRAM: One year course of Art or Design for art school graduates
This program is open to ASABI graduates or to those who have achieved the same level of art education, Students pursue single self-set themes, aided by personal consultation with the department instructor.
Study length: 1 years
AVAILABLE TERM STARTS EACH YEAR: APRIL
TUITION FEES
1st year
¥1,390,000-
2nd year
¥1,230,000-
3rd year
¥1,210,000-
Post- Graduate Program
¥690,000-(Graduates of ASABI)
¥790,000-(Graduates of other schools)
That includes Application fee, Tuition fee, Maintenance costs, Practical work fee, Health care fee.
*Under certain circumstances, tuition (but no other fees) is payable in installments if applied in advance.
Requirements
<Prerequisite>
-18 years of age with high school diploma or equivalent
-At least 6 months of Japanese study at an authorized Japanese language school. Please refer to the following URL whether your school is appropriate:
http://www.nisshinkyo.org/search/ Or equivalent study in overseas.
<Japanese proficiency (only one of the following requirements needs to be met)>
-JLPT N2 or N1
-A score of 200 or higher on the Examination for Japanese University Admission for International Students (EJU exam)
-A person who has been admitted as having equivalent ability in another school.