Overview of JSL Nippon Academy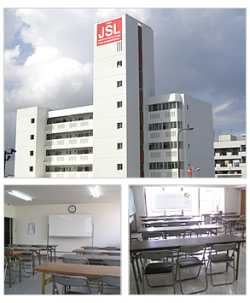 This academy in Okinawa was established with the aim to develop human resources with the skills to lead Japan and take part in the global community in the international environment of Okinawa. (As the"Bankokushinryo" bell inscription reveals, Okinawa has been engaging in foreign trade since ancient times.)
JSL Nippon Academy – established in 1986 – has been providing programs to train students to become valuable assets with high levels of language skills, an international sense and hospitality values.
The school's goal is to train quality people who always think about how they can utilize their knowledge and skills and take actions for people and society. Students obtain knowledge and skills and also understand the business philosophy of Omi merchants called "Sanpou-yoshi." "Sanpou-yoshi"means "good for the buyers, good for the sellers, and good for the society."
School Data of JSL Nippon Academy
School Data (June 2014)
Location

Urazoe-city, Okinawa

Asakusabashi, Taito-ku, Tokyo

Accommodation
Dormitory
Foundation
December 1986
Membership
Nisshinkyo
Admission capacity

Okinawa: 675, Tokyo: 100 

Number of teachers
24 (Full-time:11)
Number of students & nationalities (July 2013)
Number of students enrolled in short-term course without student visas: 0
Number of students enrolled in long-term course with student visas: 257
China
0
Korea
0
Taiwan
0
Vietnam
45
Nepal
207
Thailand
0
Myanmar
0
Mongolia
0
Indonesia
0
Sri Lanka
0
Sweden
0
Malaysia
0
USA
3
India
0
France
0
Russia
1
Philippines
1
Saudi Arabia
0
Italy
0
Spain
0
UK
0
Canada
0
Bangladesh
0
Cambodia
0
Singapore
0
Switzerland
0
Germany
0
Australia
0
Others
0
Features of JSL Nippon Academy
Reasonable Tuition fees
Low living costs
New and clean student dormitory
Many part-time job opportunities
Support with care to meet individual needs
Courses provided by JSL Nippon Academy
College Preparatory Course
JSL Nippon Academy provides the College Preparatory Course for students wishing to pursue further education at university, junior college, or vocational school in Japan.
Start Date
January, April, July, October (Okinawa Campus)

April and October (Tokyo Campus)

Duration
1 year, 1 year and 3 months, 1 year and 6 months, 1 year and 9 months, 2 years
Schedule
Mon-Fri 9:10-12:30 or 14:00-17:20
Number of Lessons
20 lessons/week
Number of students in a class
20
Required Japanese skills
Basic knowledge is required
Class Levels
Beginner

The students will learn everyday language, basic grammar and prepare for the 3rd and 4th grade Japanese Proficiency Tests.
Intermediate

The students will exercise and consolidate their everyday language acquired the Freshman Class and increase their vocabulary. Students are expected to prepare for the 2nd and 3rd Japanese Proficiency Test.
Advanced

The students will acquire comprehensive and high level of Japanese skills including, writing, listening and speaking. Students are expected to prepare for the 1st grade Japanese Proficiency Test.
Schedule
| | | | | |
| --- | --- | --- | --- | --- |
| Course | College prep A (1 year) | College prep B (1 year and 9 months) | College prep C (1 year and 6 months) | College prep D (1 year and 3 months) |
| Hours of study | 800 hours | 1400 hours | 1200 hours | 1000 hours |
| Start date | April | July | October | January |
| Deadline | October | February | May | August |
Destination of graduates
JSL Nippon Academy has a vocational school called JSL International college where students can learn International Business and Tourism Business.
Foreign students can have academic counseling. Those who have a goal in advancing to university, junior college or other institution can obtain detailed career guidance. Students, who have been in attendance for a minimum of two years, are able to a transfer to a university.
Destination of graduates (2012)

| | |
| --- | --- |
| Number of graduates | 103 |
| Graduate School | 0 |
| University | 0 |
| Vocational School | 98 |
| Example | JSL International College |
Activities offered by JSL Nippon Academy
Japanese language learning is not just learn the language. Learning Japanese culture is also important. In our school, you can learn traditional Japanese culture including the Japanese art of flower arrangement and tea ceremony. Students can acquire international international sensibility by communicating other students coming from world and enjoy a variety of activities.


Accommodation arranged by JSL Nippon Academy
Dormitory

JSL Nippon Academy has own dormitory. There is a big kitchen area where students can cook.
In addition, JSL Nippon Academy is building a new building including dormitory. It will be completed in 2015.
Tuition and fees of JSL Nippon Academy – 2019
The tuition and fees of JSL Nippon Academy are as follows.
Tuition and other school fees (Japanese yen)

Admission fee

10,000 yen

Enrollment fee

120,000

yen
Tuition (year)

600,000 

yen

Facility fee

100,000

yen
Dormitory (utilities included)
Single (month)
60,000 yen
Double (month)
40,000 yen
Dorm type 8 students (month)
25,000 yen
Sample Estimated Cost for One Academic Year – 2019
Here is the estimated cost for one academic year at JSL Nippon Academy. It is based on Dorm type room (8 students, 25,000 yen/month). The estimated cost will be changed depending on how long you stay.
College Prep A (Japanese yen)

Admission fee

10,000

yen

Enrollment fee

120,000

yen
Tuition fee

600,000

yen

Facility fee

100,000

yen
Dormitory
300,000 yen
Total
1,130,000 yen
To learn more, contact us here or by email: info@motivistjapan.com