Overview of Kumamoto YMCA College
Kumamoto YMCA started its Japanese Language Education Service in 1979, and has since become a place for Japanese study and cultural exchange between Japanese people and students from all over the world. In 1990, its Japanese Language School was authorized by the Association for the Promotion of Japanese Language Education. In April 2007, the school changed from an incorporated foundation to a legally recognized, incorporated educational institution with approval by the authorities. Many graduates of Kumamoto YMCA apply of their Japanese proficiency in their study at Japanese undergraduate and graduate schools. We at Kumamoto YMCA aim at providing high-quality Japanese language programs which enable graduates to pursue higher education in Japan. We also hope to offer opportunities to develop multiculturalism and mutual understanding between people from all over the world.
School Data of Kumamoto YMCA College
School Data (September 2014)

| | | | |
| --- | --- | --- | --- |
| Location | Kumamoto-city, Kumamoto | Accommodation | Private residences |
| Foundation | April 1979 | Membership | Nisshinkyo |
| Admission capacity | 140 | Number of teachers | 9 (Full-time:3) |
Number of registered students (July 2014)
Number of students enrolled in short-term course without student visas: 8
Number of students enrolled in long-term course with student visas: 43
China
12
Korea
2
Taiwan
4
Vietnam
4
Nepal
15
Thailand
0
Myanmar
0
Mongolia
0
Indonesia
0
Sri Lanka
1
Sweden
0
Malaysia
0
USA
1
India
0
France
0
Russia
0
Philippines
3
Saudi Arabia
0
Italy
0
Spain
1
UK
0
Canada
0
Bangladesh
0
Cambodia
0
Singapore
0
Switzerland
0
Germany
0
Australia
0
Others
0
Features of Kumamoto YMCA College

Providing high-quality Japanese language programs which enable graduates to pursue higher education in Japan
Meeting International Friends
Connections with Local People
Requirements of Admission
18 years old and older
Completion of 12 years education
Have someone who is responsible for paying the tuition and cost of living during your course of study in Japan
150 hours study of Japanese language or JLPT N5
Courses provided by Kumamoto YMCA College
1. Preparatory Course (Tobu YMCA)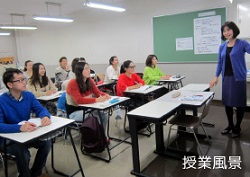 Kumamoto YMCA adopts a homeroom system and places emphasis on guiding students toward next level of education.
Through consultations, homeroom teachers will gain a clear grasp of each student's future goals as well as their motivations.
Teachers then create interview practices and/or thesis guidance suited to each individual student.
We provide thorough Japanese language instruction.
We emphasize the basics, including pronunciation.
We support your learning outside of classes (for example, homework and mini quizzes).
We design curriculum with a focus on continuation to higher education  (i.e. project work, computer training, English, Mathematics, interchange classes at local schools, and so on).
We offer private guidance for entrance exam, interview skills and essay writing.
We arrange opportunities for the acquisition of real-life Japanese through outside activities  (for example, interaction with local people, and so on).
Homeroom teachers are also available for consultation.
| | |
| --- | --- |
| Start Date | April, October |
| Duration | 1 year and 6 months, 2 years |
| Schedule | Mon-Fri |
| Number of Lessons | 25 lessons/week |
| Number of students in a class | 15 (average) |
| Required Japanese skills | Basic knowledge is required |
2. Short-term Course (Kamitori YMCA)
The basic curriculum is three months. Lessons are divided into different levels and small class sizes are taught by experienced teachers. Our aim is for students to master the four skills of "speaking", "listening", "reading" and "writing", which are necessary in real situations of life and work in Japan. Students study in class and in off-campus activities.
| | |
| --- | --- |
| Start Date | January, April, July, October |
| Duration | 1 – 12months |
| Schedule | Mon-Fri 10:10~13:40 |
| Number of Lessons | 20 lessons/week |
| Number of students in a class | Ave. |
| Required Japanese skills | Beginner |
| Tution | 53,060 yen/month |
Destination of graduates
Destination of graduates (2012)

| | |
| --- | --- |
| Number of graduates | 24 |
| Graduate School | 3 |
| University | 6 |
| Vocational School | 6 |
| Examples | Kyoto University, Osaka University, Yokohama National University, Kyushu University, Hiroshima University, Kumamoto University, Nagasaki University, University of Miyazaki, Kagoshima University, National University Corporation Shizuoka University, Gifu University, University of Toyama, Fukuoka University of Education, Prefectural University of Kumamoto, Shimonoseki City University, Miyazaki Municipal University, Kumamoto Prefectural College of Technology, Tokyo University of Technology, Nihon University, Kinki University, Ryukoku University, Osaka University of Tourism, Osaka Sangyo University, Otemon University, Kokushikan University, Meikai University, Ritsumeikan University, Ritsumeikan Asia Pacific University, Aichi University, Kumamoto Gakuen University, Kyushu Sangyo University, Fukuoka University, Kyushu Lutheran College, Nagasaki International University, Nagasaki Institute of Applied Science, Nagano University, Hannan University, Tohwa University, Tokiwa University, Tenri University, Seijoh University, Kyoto College of Economics, Komazawa Junior College |
Activities offered by Kumamoto YMCA College
Events

In addition to school events, various activities are held throughout the year, such as interaction with Kumamoto YMCA members, sports activities with Japanese students of Kumamoto YMCA College, visits to elementary, junior high, and/or high schools, and more.
Private Conversation Practice
We provide you with the opportunity of private conversation practice with Japanese volunteers after school. We hope you will acquire not only natural Japanese conversation proficiency but also an understanding of Japanese culture by talking with many Japanese people.
International Youth Volunteers
The international youth volunteers, mainly composed of college students, gather at Kamitori YMCA. They hold regular meetings each month and plan events or volunteer activities themselves. Let's enjoy international friendships with Japanese students at YMCA.
Accommodation arranged by Kumamoto YMCA College
Ariake So

Very safe because the matron is always present. You can also enjoy Japanese home-made meals for breakfast and dinner.
Tuboi Apartment

No utility fee! No service charge!
Corpo Flower

No utility fee! Unlimited use of the internet!Close to the JR Kami-kumamoto station!Very convenient location!
Monthly Karashima

5 minutes from the center of Kumamoto City (on foot). Bank, post office, convenience store and super market are at anextremely close range. Free NTT cable internet. High-grade monthly condominum
Tuition and fees of Kumamoto YMCA College – 2018
The tuition and fees of Kumamoto YMCA College are as follows.
Tuition and other school fees (Japanese yen)
Application fee (Preparatory)
20,000 yen
Admission Fee
Preparatory
50,000 yen
Short-term
15,450 yen
Tuition
Preparatory 1.5 years
900,000 yen
Preparatory 2 years
1,200,000 yen
Short-term
53,060 yen/month
Materials
Preparatory 1.5 years
90,000 yen
Preparatory 2 years
120,000 yen
Short-term
5,150 yen/month
Dormitory (Ariake So)
170,000 yen (3 months, Mon-Fri Breakfast & Dinner)
Airport Pickup
23,000 yen
Sample estimated cost for one academic year – 2018
Here is the estimated cost for one academic year at Kumamoto YMCA College. It is based on private dormitory with meals. The estimated cost will be changed depending on how you stay.
Preparatory Course (Japanese yen)

| | |
| --- | --- |
| Application fee | 20,000 |
| Admission fee | 50,000 |
| Tuition fee | 600,000 |
| Materials | 60,000 |
| School Activities | 30,000 ~ 40,000 |
| Dormitory with meals | 680,000 |
| Airport Pickup | 23,000 |
| Total | 1,463,000 ~ 1,473,000 yen |
To learn more, contact us here or by email: info@motivistjapan.com