NILS Japanese Language School Overview
NILS Japanese Language School was established in 2003 and has helped many international students to feel comfortable in learning and using Japanese language after completing its courses. Students from all over the world, including China, Korea, Nepal, the United States, Canada, Sweden, Finland, Hungary, Brazil, Ghana,  and many other countries have studied at NILS so far. The school is situated at about 30 min train ride from the center of Fukuoka city, the biggest and the most developed city in Kyushu, and one of the most pleasant cities of the world.
Why study at NILS Japanese Language School
All teachers are certified native speakers.
Various activities throughout the year
Japanese-only policy
Less living expenses compared to other big cities like Tokyo or Osaka
Language Courses at NILS Japanese Language School
NILS Japanese Language School offers long-term and short-term programs for its students. If you are an international student who needs a visa and who wants to study at a higher educational institution after completing a language course, then a long-term 1~2 year program is right for you! If, on the other hand, you come to Japan on a different type of visa or are already staying in Japan, you might want checking one of the short-time programs. For information on the short-term courses, please contact us.
Academic Preparation Courses (Long Term Courses)

| | | | |
| --- | --- | --- | --- |
| Course Length | 2 Years | 1 Year 6 Months | 1 Year |
| Admissions | April | October | April, July, October, January |
| Class Schedule | 20 lessons/week, 1 lesson=45 min | 20 lessons/week, 1 lesson=45 min | 20 lessons/week, 1 lesson=45 min |
| Tuition Fee | $14,600 | $11,325 | $6,250 |
Activities at NILS Japanese Language School
NILS Japanese Language School offers various activities throughout the year. You can find welcome ceremony, festivals and events, speech contest, tea ceremony, traditional doll painting, cooking ramen (noodles) or gyoza (dumplings), river boat cruise, one day trips to Kumamoto and Miyazaki, fireworks, graduation ceremony and much more!
Accommodations at NILS Japanese Language School
NILS offers various accommodation options for their international students. Homestay option or shared house option are available along with school dormitory and local residences.
| | |
| --- | --- |
| Type | TOTAL (1 year) |
| Shared (2 people/room) | $3,645 |
| Private (1 person/room) | $4,605 |
One Academic Year Estimate
This is the total costs estimate for studying at NILS Japanese Language School for 1 academic year. The estimates have been calculated in case of using school dormitory, and the amount will be changed depending on the length of study, accommodation type and living expenses.
Living expenses depend on how much you spend on food, housing, clothes, leisure etc.
1 Academic Year Estimate

| | |
| --- | --- |
| Application Fee | Included |
| Admission Fee | Included |
| Tuition Fee | $8,050/year |
| Dormitory Fee | $3,645~/year |
| Living Costs Estimate | $6,000~/year |
| TOTAL | $17,695~/year |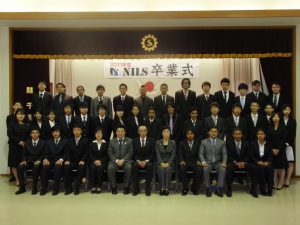 To learn more, contact us here or by email: info@motivistjapan.com