Waseda Edu Language School OVERVIEW
The educational philosophy of Waseda EDU Japanese Language School is to educate people of world-wide countries trying to learn Japanese and Japanese culture, to eliminate prejudice and discrimination based on humanity, nationality, language, etc, to cultivate the spirit of equality, equity and harmony Respecting the individuality of foreign students, respecting the individuality of international students, we cultivate 'broad international knowledge', 'practical Japanese language ability', 'rich sensibility', 'heart of symbiosis', a bridge between people of different cultures and arich international sense It is aimed at nurturing young people..
WASEDA EDU LANGUAGE SCHOOL DATA
School Data 

| | | | |
| --- | --- | --- | --- |
| Location | Ichigaya Sadohara-cho, Shinjuku-ku, Tokyo  | Accommodation | Not available |
| Establishment | 1988 | Membership | Nisshinkyo |
| Student capacity | 710 | Number of faculty members | 60  |
Features of WASEDA EDU LANGUAGE SCHOOL
Excellent school: Ministry of Justice Immigration Bureau Certified High School Foundation Japanese Language Education Promotion Association accredited school
Admission guidance: EJU Preparation Course, Art Course, Graduate Education Guidance Class Establishment, Thorough Support for Advancement
Art Course: Commentary on fixed-rate art basic course, guidance of Professor Musashi Miyazaki and professors of famous Japanese beauty graduates
Japanese language teach: I am studying and practicing more effective teaching methods by learning Japanese from the basics
School building access: Set up at Ichigaya station in the center of Tokyo, convenient for transportation
support system: Chinese, Korean, English speaking staff will support school, passbook opening, various administrative procedures, consultation such as illness / injury
LANGUAGE COURSES AT WASEDA EDU LANGUAGE SCHOOL
 

Japanese Course

 

EJU Preparation Course

 

Art Course

 

Academic achievement
 Japanese International Student Examination ( EJU )
*Set up subjects
Mathematics I (Arts)

Mathematics II (Science)

physical

Chemistry

Liberal arts 

synthesis
*Number of people: (20 subjects in each subject)
* Class hours: same as the schedule of the Japanese language school, every day from 17:30 to 19:30 (2 frames)
* About 45 minutes per one frame
 *(CHINESE VERSION)

Early Shibata

 

EDU

 

Art Class

 

Art Foundation Course Guide
Japan has brought together the famous art colleges in Asia, and has also trained many famous designers and illustrators in the world. Therefore, among the students studying in Japan, students aiming at Japanese art universities are also growing year by year. The entrance exams for Japanese art universities and the exams for other countries vary widely. Therefore, exercises aiming at the promotion of Japanese art universities are also essential.
 
The Waseda EDU Japanese Language School has established art foundation course tutoring since 2014. The aim is to achieve the goals and ideals of students aiming at the Japanese art university. In order to give them the most professional guidance, our school has hired full-time art courses for teachers, as well as excellent masters and lecturers from Musashino Art University and Tama Art University. Solve the basic courses before the students from all over the world go to the University of Fine Arts, and set up a special class for such artists to study.
WASEDA EDU LANGUAGE SCHOOL provides academic preparatory Japanese language courses in Mathematics, Science, Literary general, physics and Chemistry classes for college entrance examination preparation.
WASEDA EDU JAPANESE LANGUAGE SCHOOL TUITION
 Notes
Tuition

Entrance Examination Fee

enrollment fee

Facility fee

tuition fee

total

One year's worth

20,000

50,000

60,000

670,000

780,000 yen

★ The above cost will be subject to a textbook.

★ Once you pay the delivery fee, you can not refund it, please be careful.

★ If you receive "Certificate of Eligibility" and a letter of acceptance, we will transfer the tuition to the school's account. If the school can confirm payment, I will apply for a visa by mailing the Certificate of Eligibility and the admission letter to the students.
APPLICATION TIME
| | | |
| --- | --- | --- |
| Enrollment time | Course time | Application time |
| January students | One year and three month course | July – August of the previous year |
| April students | Year-year course | September – October of last year |
| July student | One year nine month course | January – February |
| October students | One year and six months course | March – April |
* It is better to prepare application documents half a year before admission. * In some cases, students are not recruited for January due to school reasons.
As neither will become the capacity limit, we will deadline application, so thank you for your understanding.
Please note that due to changes in the application procedure for resident status, the reception period may be changed without prior notice.
ACTIVITIES OFFERED BY WASEDA EDU LANGUAGE SCHOOL
 SPORTS EVENT
 COOKING COMPETITION IN ODAIBA
GRADUATION CEREMONY IN MARCH 2016
1 ACADEMIC YEAR COSTS ESTIMATE
This is the total costs estimate for studying at Waseda Edu Language School for 1 academic year. Accommodation fees are not included (Living expenses depend on how much you spend on food, housing, clothes, leisure etc.).
1 Academic Year Estimate
Application Fee
¥

20,000

Admission Fee
¥

50,000

Tuition Fee
¥

67, 0000

/year

Facility fee

¥

60,000

/year
TOTAL
¥

780,000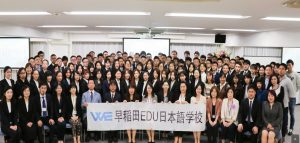 To learn more, contact us here or by email: info@motivistjapan.com