Budget to Study in Japan
HOW MUCH IS IT TO STUDY IN JAPAN?
Below is an estimate and breakdown for 1 year tuition fees.
Visa application/Registration:      20,000 ~ 22,000
Entrance fee:                               50,000 ~ 55,000
Tuition:                                         660,000 ~ 680,000
Facilities:                                      30,000 ~ 33,000
Material:                                       10,000 ~ 33,000
————————————————————————————–
First Year total fee:                   770,000 ~ 823,000
The tuition and other course related fees slightly differ from school to school. Student must pay the first 12 month in full, after student can pay the remaining if they extend beyond first year (3 months, 6 months, p months and 1 year) before the semester start.
WHAT ARE THE LIVING COSTS AND EXPENSES? 
Here is a simulation of  monthly budget/living expenses to study in Japan. Foreign students are allowed to work part-time in Japan (a maximum of 28 hours per week) and  majority of them do so. This is something that you may also consider. This will enable you to practice your Japanese and will help you financially.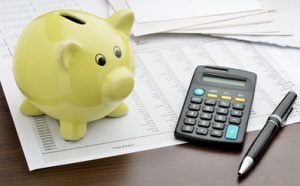 Assuming that the tuition fees, appliances and other items have been paid, you will see that daily expenses can be covered by part time job. 

To make this simulation realistic, we added as many expenses as possible (while remaining reasonable, other expenses like  personal travel is not included ). In many cases, students choose accommodation walking-distance from their school. Here we took into account public transportation commuting. Likewise, we counted 1,500 yen for meals every day but when under budget, students can lower this cost.

Please keep in mind that life in Japan is not so expensive. There are ways to keep expenses in check, for example by shopping at 100 yen shops.
Below, you will find the case of a student enrolled in a one year program, in Tokyo, with housing in a shared apartment. In this scenario, the foreign student works as a waiter in a restaurant.
Simulation of a budget to study in Japan:
Monthly Expenses:
Rent: 40,000 Yen (shared apartment) 
Commuting (Suica card): 5,000 Yen
Food: 1,500 Yen x 30 days = 45,000 Yen
Other expenses (supplies, phone bill etc): 10,000 Yen
Going out on weekend (dinner, drink): 4 times/month x 2,000 Yens = 8,000 Yen
Total of monthly expenses: 108,000 yen
Monthly Income:
Work (28 hours per week at 1,000 Yen per hour *)
28 hours x 4 weeks = 112 hours per month
112 hours x 1,000 Yen =  112,000 yen
This is only a simulation of a budget to study in Japan. Of course, each situation is unique. Some people manage to keep expenses really low. Others may go out a lot and need a higher budget. In any case, what we would like you to remember here is that the Japanese law allows you to work up to 28 hours per week so take advantage of it. It is your chance to experience how to work with Japanese and use this chance to practice your speaking ability. You earn while you learn. 
* Minimum wages vary from prefecture to prefecture, from 762 Yen to 985 Yen in Tokyo (for more information about minimum wages in Japan, click here – page in Japanese only). Wages depend on jobs and required skills. For example, a foreign student who teaches his/her own language may earn 2,000 Yen per hour. For less qualified jobs students earn around 1,000 Yen per hour. Rate can go up if you work 10 PM onwards. Some companies now offer attractive rate because of the lack of manpower. 
To do your own calculations, please click here.
If you have any questions, please feel free to contact us.