Overview of Futaba College of Foreign Languages
Futaba College of Foreign Languages (FUTABA) was founded in March 1960.
The students of the FUTABA aim to pursue education in Japan by enrolling at colleges, universities and post-graduate schools.  FUTABA offers detailed guidance for those who plan to continue their education from choosing a school to entrance exams. As a result, students are able to successfully enroll at public, private universities and colleges.
To meet significantly different needs, FUTABA teach not only Japanese but also the Japanese culture, customs and manners to deepen the understanding of different cultures.

FEATURES OF FUTABA 
According to students' course, experienced teachers lead them what to do. Also alternative special class is provided for students continuing to go to higher education.
Counseling for students' life and personal troubles is provided.
There are many chances to visit Japanese traditional and cultural facilities and to communicate with Japanese people.
COURSES PROVIDED BY FUTABA 
1. STUDENT VISA COURSE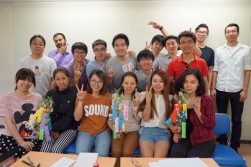 You need to apply for Student Visa to the Bureau of Immigration in order to learn Japanese for a long period
or get higher education in Japan.
Start Date
January, April, July, October
Duration
1 year, 1 year and 3 months, 1 year and 6 months, 1 year and 9 months, 2 years
Schedule
Mon-Fri 9:00-12:30 or 13:00-16:30
Number of Lessons
20 lessons/week
Number of students in a class
Average 15~20
Application fee
25,000

¥

/an
Entrance fee
60,000

¥

/an
Tuition fee
624,000

¥

/an
TOTAL
709,000

¥

/an
You may pay in two installments.
First payment (after the Certificate of Eligibility has been issued) :
25,000 ¥ (application fee)
60,000 ¥ (entrance fee)
312,000 ¥ (tuition fees for 6 months)
Total 1 : 397,000
Second payment (3 months later) :
312,000 ¥ (tuition fees for 6 months)
Total 2 : 312,000
2. NON STUDENT VISA COURSE
Those who have Visas* except "Student Visa" can study from the minimum of 4 weeks for daily living, business, enrollment to Vocational School, University and Graduate School, etc.
(* Working holiday visa, Temporary visitor visa, Family resident visa, Spouse visa, Permanent resident visa, Settlement visa, etc.)
| | |
| --- | --- |
| Start Date | Beginner level:January, April, July and OctoberOther levels:anytime |
| Duration | 4~9 weeks、10~19 weeks、20 weeks or more |
| Schedule | Mon-Fri 9:00-12:30 or 13:00-16:30 |
| Number of Lessons | 20 lessons/week |
| Number of students in a class | Average 15~20 |
| Tuition | 13,000 yen/week (4~9 weeks)、12,000 yen/week (10~19 weeks)、11,000 yen/week (20 weeks or more) |
Class contents
Beginner
3~4
Months
Hiragana, Katakana and Kanji 200 words
Can say basic greetings and use Japanese in basic daily conversation such as shopping, etc.
Can read and write easy and simple sentences.
High
Beginner
3~4
Months
Kanji 400 words
Can understand most daily conversations.
Can make a request or opinion in a manner that is not rude to the other party.
Intermediate
3~4
Months
Can understand and converse a familiar topic in school or at work as well as the ability to explain clearly at some extent.
High
Intermediate
3~4
Months
Can engage in daily conversations smoothly and is able to express ideas and make suggestions about familiar topics.
Advanced
3~4
Months
Can explain in detail about a topic of interest.
High
Advanced More than
6 months
Can communicate in a polite and professional way depending on the situation.
ACTIVITIES OFFERED BY FUTABA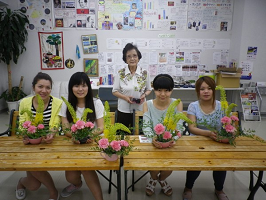 There are many kinds of events as a communication with classmates and students from different countries speaking Japanese language through the year.
ACCOMMODATION ARRANGED BY FUTABA
School Dormitory

You have to live in the dormitory a minimum of 3 months. Upon moving-out, please make sure to inform the school at least 2 weeks in advance. Bath tub, Air-conditioning, TV, Refrigerator, Bed, Table, Internet connection are in the private room.

Elevator, Refrigerator, Microwave, Vacuum cleaner,

 

Washing machine (with charge), Dryer, 

Kitchen (IH cooking heater,Cooking Ustensils)are available for everyone.

TUITION AND FEES OF FUTABA – 2019
The tuition and fees of FUTABA are as follows.
Tuition and other school fees (Japanese yen)
Application fee(student visa)
25,000 yen
Admission fee(student visa)
60,000 yen
Registration fee (non student visa)
20,000 yen
Tuition
student visa-1 year
624,000 yen/year
non student visa
4 weeks~9 weeks
13,000 yen/week
10 weeks~19 weeks
12,000 yen/week
20 weeks or more
11,000 yen/week
School Dormitory
Dormitory admission fee
40,000 yen
Guaranty fee (refundable)
20,000 yen
Fee
Single
60,000 yen/month
Double (per person)
37,000 yen/month
*Cost of text is not included.
SAMPLE ESTIMATED COST FOR ONE ACADEMIC YEAR – 2019
Here is the estimated cost for one academic year at FUTABA. It is based on a private dormitory (37,000 yen/month). The estimated cost will be changed depending on how you stay.
Student visa course(Japanese yen)

| | |
| --- | --- |
| Application fee | 25,000 yen |
| Admission fee | 60,000 yen |
| Tuition fee(not including text cost) | 624,000 yen |
| Dormitory admission fee | 40,000 yen |
| Guaranty fee | 20,000 yen |
| Dormitory | 444,000 yen |
| Total | 1,213,000 yen |
To learn more, contact us here or by email: info@motivistjapan.com